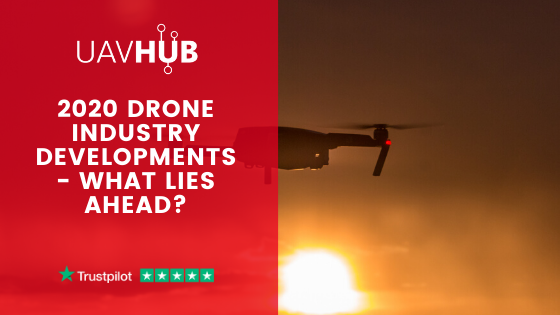 We live in a time of accelerated technology development and 2020 looks set to deliver more exciting products to drone enthusiasts and professional operators alike. There are a number of tech development companies continually working on securing their niche in the competitive consumer and professional drone markets, but one manufacturer always seems to stay a step or two ahead of the competition - the mighty DJI! So where is the development aimed and what is expected in the foreseeable future?
[This article has been updated on 30.04.2020 to reflect the delay to the implementation of the EU UAS Regulation package to 1st November 2020]
Regulatory requirements and influences
As the number of consumer drones being sold and filing our skies increases, so the need for regulations and potential risk to people and manned aircraft comes under the spotlight. Regulatory authorities around the world are tasked with regulations which provide a safe environment for people to enjoy their personal drones as well as for professional operators to be able to carry out their work safely in public areas. This is a very complex process due to the infinite number of different situations where people want to fly one of the ever expanding range of drones.
In Europe and the UK a comprehensive set of regulations have been developed over several years and are soon to be implemented. We have a YouTube video which gives a quick overview of these regulations here.
Interestingly, the technology has developed more quickly than the rules have in some cases and it seems as though there will be some ongoing development of the regulations to avoid loopholes being exploited resulting in unsafe flying being carried out 'legally'. The new regulations are very much focussed on risk and have totally eliminated the previous focus on the commercial aspects which previously mandated the requirement for a 'license' to carry out any profitable operations. The type of aircraft being flown has been determined as a very relevant factor in the risk of drone flying and therefore categories have been developed to help determine what restrictions will be imposed on different types of aircraft and operations.
We have developed a table outlining the details of these classes, you can view the table here. There is a transitional phase between 2020 and 2022 but manufacturers will have to build new generations of aircraft to specific standards and have their new models certified so as to allow end users to know what limitations apply to specific models.
Tech giant DJI have outlined a plan to help maintain and improve the safety of drone flights in future. A significant factor is their commitment to include ADS-B (Automatic dependent surveillance—broadcast) receivers in all new models over 250grams. In basic terms, this system will alert the drone pilot of approaching manned aircraft well in advance of their arrival enabling the pilot to respond accordingly thereby minimising the risk of a collision. So far, this is not a regulatory requirement so not all manufacturers will include this technology in the short term however it is very likely to become a new standard requirement in future.
Certified aircraft, what to expect?
At UAVHUB, we keep a close eye on any developments in the drone industry. A lot of speculation always precedes the launch of a new drone which promises better value and performance than its predecessor or competitors. DJI are known to be very secretive during their developmental stage of producing new models and of course this causes a lot of fake news and speculation.
Some exciting images have recently surfaced on the internet which have given us an insight into what to expect next from DJI. The images are not high resolution and only provide limited information for the keen eye to deduce some details about the new aircraft. This is purely speculation based on our interpretation of the pictures but one thing is for certain, a new DJI model is on it's way! We expect this model to be a successor to the DJI Mavic Air. In terms of styling the new model appears to follow the foldable design which has become synonymous with the Mavic series.
A familiar slotted metal heatsink appears to form the foundation for the main body of the drone. Obstacle avoidance sensors are clear to see, a system only excluded in the smallest of the Mavic series - the Mavic Mini. While smaller in diameter (possibly 70mm), the propeller design could easily be mistaken for that of the Mavic 2 - this design has proven to be extremely quiet and efficient. The camera and gimbal are of course a critical part of the specification of a new model. The Gimbal certainly appears to be a 3-axis variant constructed of a composite material - the finish on the example in the photographs does not appear to be up to DJI's usual standard so we must assume that this is a pre-production unit still undergoing testing and development.
Unfortunately it is impossible to make any definitive estimation of camera specification based on pictures, but considering the predecessor's specification and the estimated physical size of the camera it is unlikely that the sensor would be any larger than the Mavic Air's 1 / 2.3 inch 12MP CMOS sensor.
That said, the Mavic Air is capable of recording 4K video as well as RAW images which is important for people looking to do post production editing of the captured data - It is extremely unlikely that the new model wouldn't at least have the same capabilities of its predecessor.
The performance of the enhanced Wi-Fi control system of the Mavic Air has always been an area of debate and it would be a notable improvement if DJI managed to incorporate their superior OcuSync system into this new near pocket size drone. If these assumptions are accurate, we expect that this aircraft would comply with the specifications required to be certified in the C1 class under the new drone regulations in Europe and the UK.
Don't forget though, that at the time of writing this article there are no certified aircraft available and there is no official confirmation of the information we have deduced from the 'leaked' images which we have based our assumptions on. Commercial operators will no doubt be much more excited to see the first signs of a much more sought after C2 certified aircraft which will be more suited to professional operators wanting to produce high quality images and video using a camera capable of collecting data at the standard of the Mavic 2 - or more!
Conclusion
As with all technology, there is always room for improvement. With the new regulations luming drone manufacturers have some clear new goals to aim for. DJI is not alone in this quest for unmanned air superiority. Competition is healthy in a competitive environment, but so far it seems that DJI are still comfortably in control of this sector of the drone market. The first quarter of 2020 has now passed and already a lot has happened. The drone industry may well look quite different by the time the final quarter of the year comes to an end.
FAQs:
Q: When will Mavic 3 be coming out?
A: There is no definitive evidence of a Mavic 3 yet however there is some evidence of a replacement model for the DJI Mavic Air.
Q: Are DJI releasing a new drone in 2020?
A: Online evidence suggests a replacement for the Mavic Air, but this is yet to be confirmed by DJI.
Q: Which is the best drone for the new EASA regulations?
A: Currently there are no certified aircraft however the C2 certified will most likely be the most sought after drones for professional use.
Q: When are the new drone regulations being implemented?
A: Despite recent confusion, the new regulations become active on 1 November 2020 in the UK.
Q: Will the new DJI Mavic Air have OcuSynch?
A: It is unlikely that DJI will be able to include OcuSynch in the specification of the new drone which is rumored to be a replacement for the Mavic Air.
Q: What class will the new DJI Mavic air be in the new regulations?
A: It is yet to be confirmed by DJI but the rumored replacement for the Mavic Air is expected to be certified as a C1 class drone under the new EASA / UK drone regulations.