The DJI Mavic Mini (official name has yet to be announced) has potentially been leaked online with 'official' photos and specs. The unannounced aircraft has been the subject of rumours since the summer and after the DJI released the sting 'Fly as you are' the internet has been on fire with discussion.
We'll try to pull all of the information together here:
Less than 250g
From the leaked specs it's believed the DJI Mavic Mini has a weight of just 249g, which would fall just under the requirement to have an Operator ID affixed to it when the UK Drone and Model Registration comes into force from 30th November 2019 (with early access from 5th November 2019).
Previously, DJI's lightest Mavic drone was the Mavic Air, which weighs 430g (or you have the Sark at 300g), far above the CAA registration cutoff of 250g.
Fits into the palm of your hand
The aircraft appears to be small enough to fit into the palm of your hand and folds away, making it smaller than most smartphones (but ever so slightly heavier).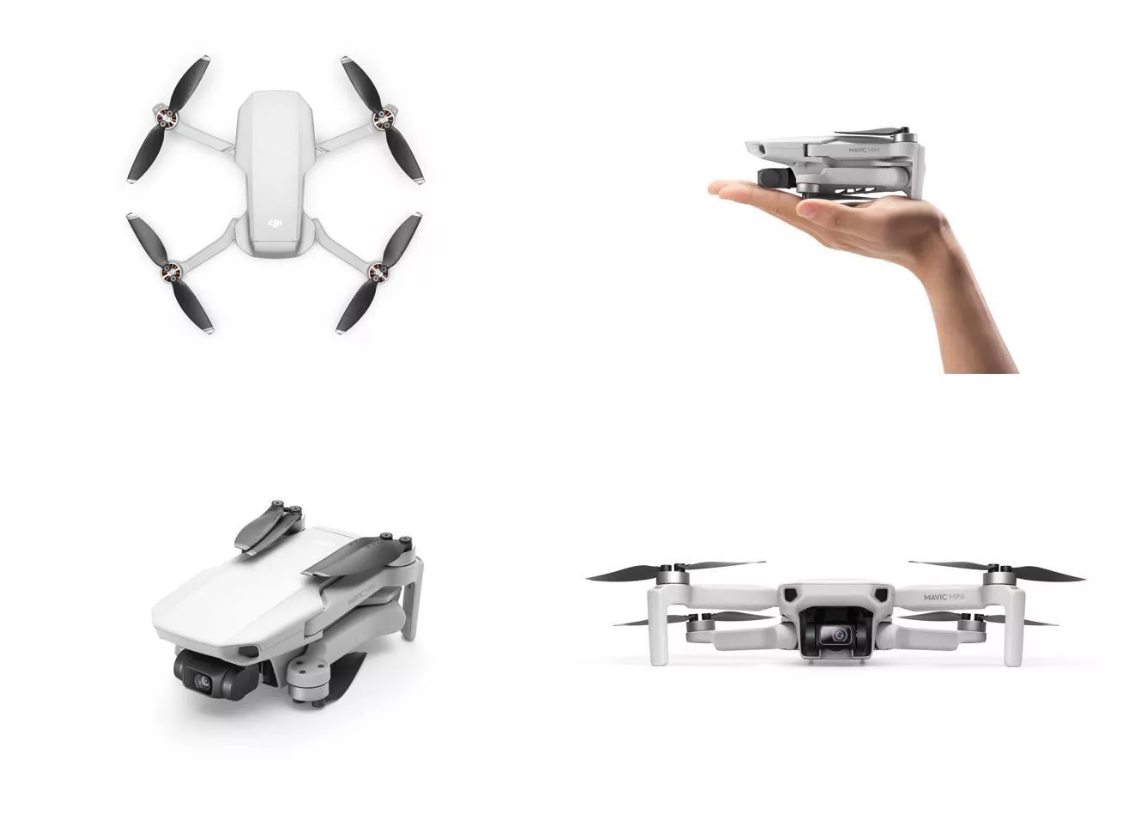 Flight time of around 30 minutes
The flight time is expected to be 30 minutes which is incredible for such a small aircraft (the Spark only has a flight time of 16 minutes).
Filming resolution of 2.7K
Filming resolution is expected to be 2.7K rather than 4K which is a little disappointing but it to be expected, This is still far better than HD and footage will still look amazing on mobile devices. The reason for this from DJI will be to ensure that sales of their popular DJI Mavic 2 range isn't affected, which already produces incredible imagery.
There's no information so far regarding photography resolution, however we would expect about 12MP.
How much will it cost?
Official costs have yet to be released, however, you can expect costs of around £399 for the aircraft and costs between £499-£599 for a 'fly more combo'. As soon as we get official prices for the aircraft we'll make sure this information is updated accordingly.
When can I get one?
DJI's 'Fly As You Are' event is on 30th October 2019, however shipments likely won't start for a few weeks as stock enters the UK. Whatever DJI announces tomorrow, you'll be able to pre-order it through ourselves at shop.flyicarus.co.uk
Is this a Mavic 2 Pro killer?
The DJI Mavic Mini isn't designed to a Mavic 2 Pro killer, it will be aimed at people that want to carry a drone everywhere with them to capture that spontaneous shot (they say the best camera is the one you've got with you).
The DJI Mavic 2 Pro is for serious bloggers, small production companies and photographers.
Conclusion
All these details are just rumours and/or leaks, with confirmed details to be announced tomorrow. If the DJI Mavic Mini is released, you'll be able to Pre-order with Fly ICARUS with FREE SHIPPING.
Included with EVERY aircraft purchased the Fly ICARUS is a FREE OPERATIONS MANUAL UPDATE & AUDIT.
Keep an eye out tomorrow for tomorrows announcement!