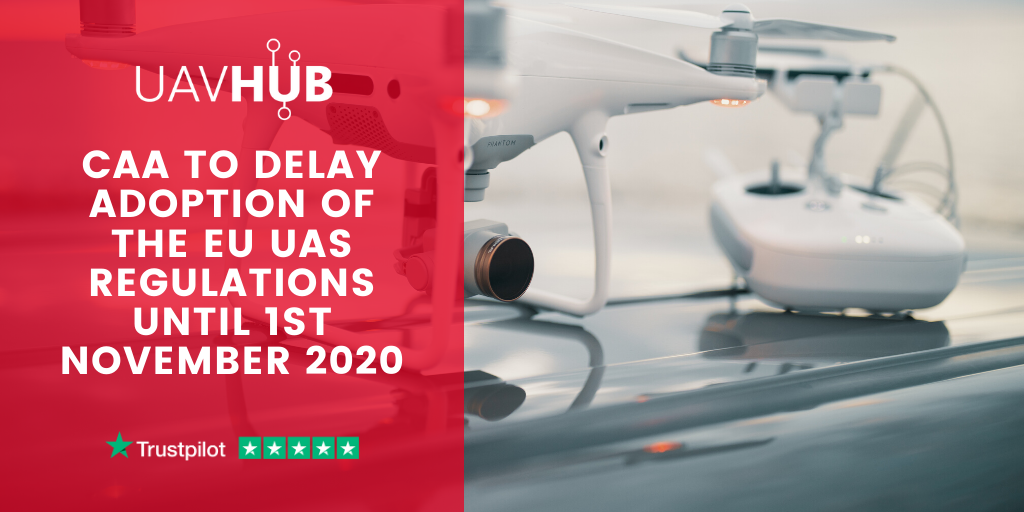 Today, Sophie O'Sullivan (Head of Unmanned Aircraft Systems) at the CAA has a released a statement that because of the ongoing disruption caused by the COVID19 outbreak, it has been decided that the CAA will postpone the introduction of the new EU UAS Regulations within the UK by a period of at least four months.
As a result, any person involved in the operation of UAS within the UK will not be required to comply with the new requirements of Regulation (EU) 2019/947 (known as the Implementing Regulation – IR) before 1st November 2020.
Therefore anyone that wants to fly their drone commercially until 1st November 2020, or they want to fly their drone within congested areas must hold Standard Permissions through a CAA Permission for Commercial Operation (PfCO).
Click here to read the official announcement
I have done a GVC Drone Course
If you have completed, or are in the process of doing a GVC Drone course with UAVHUB, you will be issued a Permission for Commercial Operation (PfCO) from the CAA if you apply before 1st November 2020 with your final Recognised Assessment Entity (RAE) certificate.
When you apply/renew after the 1st November 2020 you will be issued an Operational Authorisation.
I have done an A2 CofC
If you have completed or are undergoing training for the A2 CofC, your certificates will now not be issued until the 1st November 2020. You cannot use the permissions granted under the A2 CofC until after this date when the UK has officially adopted the EU UAS Regulations.
If you wish to operate your drone commercially before the 1st November 2020, you will need a PfCO from the CAA which you can only get by doing either a GVC Drone Course or a PfCO Drone Course.
CAP 1789 to be updated
The EU UAS Regulation package details can be found within the CAP 1789 which the CAA has said shall be updated soon to reflect the new applicability date change, along with other developments since its' initial publication.
Conclusion
Until at the earliest 1st November 2020, the UK Drone regulations will not change from their current form. You must hold a PfCO if you wish to operate your drones commercially or within congested areas. The only way you can get a PfCO is either by doing a GVC Drone course or a PfCO Drone course.
If you have done an A2 CofC, your certificate will be dated for 5 years from the 1st November 2020 and you cannot operate under the A2 Subcategory of the Open category until this date.
If you have any questions about these or any other UAS related subjects, please refer to the CAA website for further updates – CAA Unmanned Aircraft webpages
It is also recommended that UAS operators subscribe to the CAA Skywise service for further updates – https://www.caa.co.uk/Our-work/CAA-SkyWise/
If you cannot find the answer via the resources above, you can email the CAA at uavenquiries@caa.co.uk
Alternatively, you can contact UAVHUB on hello@uavhub.com or call 0800 033 4400.