Back in September 2018 DJI released the Mavic 2 Pro and Zoom to much excitement in the industry. These aircraft have been the most popular aircraft we have sold over the past 12 months since they were released, but that means the Mavic Air has been left behind and is due an update.
We anticipated that a new aircraft would be announced in September 2019 but we were left hanging with no word from the worlds leading drone manufacturer. On top of this, we struggle to get supplies into the UK DJI Mavic 2 aircraft and fly more kits due to a new EU regulation impacting packaging (shipments are now starting to reach the UK).
DJI then released the OSMO Mobile 3, much to the disappointment of the rumours of a new Mavic and lack of an update to the Phantom 4 (which is been practically unavailable for about 12 months!).
The DJI Mavic Mini
So, getting back to the Mavic Mini, We first heard about the Mavic Mini in August when a Chinese patent filing for a new pint-sized quadcopter was discovered. This patent looked somewhat like a hybrid/mashup of the Spark and Air.
Where the Spark couldn't be folded into a smaller package, the Mavic Mini has reportedly been rumoured to have folding propellers like the other Mavic range. The rumour mill also puts the Mavic Mini's dimensions at 270mm diagonally when unfolded and weighing in at just 250g. If the aircraft does come in under 250g with its battery then this aircraft won't have to have an SUA registration number affixed when the Drone Registration and Education Scheme (DRES) comes into effect in the UK at the end of November 2019.
Furthermore, a link has reportedly appeared in the FCC database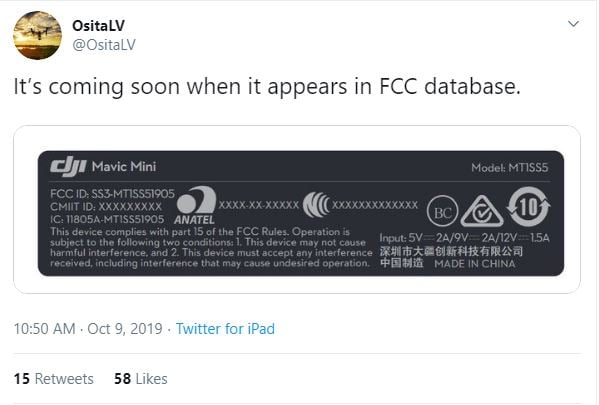 We can't imagine that if the Mavic Mini comes to fruition it would come with a Hasselblad camera (like the DJI Mavic 2 Pro), but it's still likely to arrive with a 12MP camera and the ability to shoot 4K (whereas the Spark was limited to 1080p).
From a price point of view, expect it to fall in the regions of £349-£399 without extra batteries or (most likely) a type of fly more kit.
The DJI Mavic 3
Rumours are floating around about a DJI Mavic 3, however, it's more likely to be a refresh of the DJI Mavic 2 with ADS-B receivers built-in as part of their new AirSense system. So it's more likely it will be branded as something like the DJI Mavic 2+ rather than 3.
The Mavic 2 Pro and Zoom are only just over 12 months old now and are both DJI's best sellers so it's unlikely that they would want to release a brand new aircraft with little to no upgraded features.
On the other hand, it could be a kneejerk reaction by the Drone manufacturer due to Skydio announcing their (rather impressive and competitively priced) Skydio 2.
At this point, it's just speculation and a collection of rumours so don't hold your breath just yet!
Conclusion
The DJI Mavic 2 Pro is still an amazing aircraft with stunning quality Video and Images for the price. What we really want to see if a brand new Phantom! We've just had the release of the DJI Phantom 4 Multispectral which is great if you are in the industry of agriculture, but we'd like to see a new Phantom with interchangeable lenses.
Come on DJI, give the people what they want!