From the 1st February 2019, any UK CAA PfCO holder who purchases a drone from Fly ICARUS will have the option for us to conduct a full audit of your Operations Manual, get it fully updated to the current CAA requirements AND include your existing and new drone.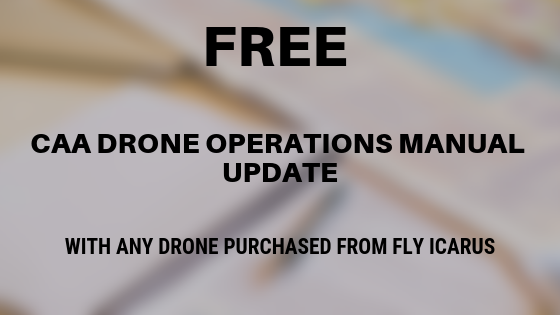 How do I get my CAA Operations Manual updated for FREE?
We all know that, as a PfCO holder, keeping your CAA Drone Operations Manual up to date with the latest CAA standards/requirements can be a bit of a nightmare at the best of times!
This is especially true at our PfCO renewal time and any time we change our fleet of drones...
Here at Fly ICARUS, we're proud to support the ever growing and evolving drone industry, and, as part of our ongoing commitment to help businesses grow and evolve, we're proud to be able to offer another 'first to market' solution to all UK CAA qualified operators.

This service, which normally costs £179, is provided by one of our partners on our behalf and the process is simple, fast, efficient and most importantly for the end user - FREE... We pick up the tab for your OM update!
What do I need to do to get my CAA Operations Manual updated for FREE?
The process we utilise to allow you to get your CAA Operations Manual fully updated for free is simple, fast, effective and FREE for you as the end user, as outlined below:
Purchase your new drone from Fly ICARUS
Tell the team that you would like to have your OM updated for FREE
You will be asked to send your current OM to us
You will be asked to complete a simple online form
Your FULLY UPDATE Operations Manual will be returned to you within 10 working days (often less), for your approval!
It really couldn't be more simple!
Interested or want to know more? Please don't hesitate to get in touch with us by email: info@flyicarus.co.uk or give us a call on: 01491 562 700
Fly safe and Blue Skies,
Fly ICARUS