Aerial Motion Pictures is excited to announce that we can now offer interest-free finance on all our PfCO Drone Courses. We have partnered with Divido to provide this option and have integrated the option into our online booking process.
You can choose from a flexible range of repayment terms such as spreading the cost over 6 or 12 months 0% APR representative with a 10-50% deposit through our partner Divido.
The application process is simple, takes around 10 minutes for you to complete, is carried out online and you will receive a decision made within 30 seconds of completion.
Why have you started Interest-free finance for drone courses?
At Aerial Motion Pictures, we understand the course costs are a significant investment for individuals and companies. Over the last few years, we have had many people ask for the option for paying in instalments, but we have never been able to offer it until now.

Interest-free instalments for you means that doing a drone course is no longer a significant upfront cost and investment. Spread the cost between 6-12 months makes the course very affordable and will help you kickstart your career as a drone pilot.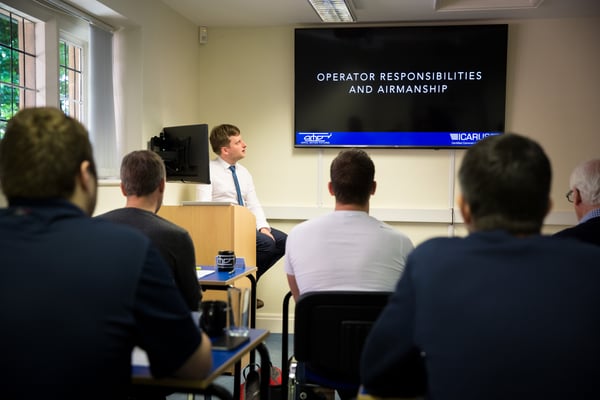 How does it work?
We've made it really easy for you to apply for Interest-free finance through our website. Simply follow the instructions below
Select the course you wish to pay in instalments, enter your contact details and proceed to Payment Method. Finally select Divido Pay in Instalments where you can decide your deposit amount and time period.
Complete the online application form and wait 10-20 seconds for the credit decision.
Once approved, we'll confirm your booking and contact you within the following 2-3 working days with your Joining Instructions.
What will I need?
In order to fill out the application for credit, you will need the following:
Personal details: name, DOB, email address, phone number
Address details - 3 years UK address history
Employment details; income, number of years employed, employer's name and title
Bank details
Am I eligible for finance?
Applying for an instalment plan is similar to applying for a new credit card. The details you provide are checked against public registers, such as credit-rating agencies. To increase the chances of acceptance, ideally, you will have a good credit history – (no late payments, CCJ's, etc) – and meet the following minimum criteria:
Be a UK resident
Be over 18 years of age
Have 3 years of UK address history
Be working at least 16 hours per week
Have a valid phone number and e-mail address
Who Are Divido?
Divido is a fintech startup already working with over 400 merchants, including BMW, HTC, Simba and of course; Fly ICARUS.
Divido Financial Services Limited ('Divido') is authorised and regulated by the Financial Conduct Authority. For more information, please visit www.divido.com. For any queries about your credit agreement, contact them on 020 3773 9510.
If you are still unsure, check out their Trustpilot review page for independant reviews of other customers who have used their service.
Further Questions?
Feel free to give us a ring on 01491 526 700 or drop us an email at info@flyicarus.co.uk, and we would be happy to answer any questions you might have.
You may also find our finance page helpful, with a number of FAQ's answered.
Are you unsure about whether you actually need a Drone License? Check out this blog.
https://blog.flyicarus.co.uk/why-do-you-need-a-drone-license
Ready to book a course?