Getting the landowners permission to take off and land your drone can sometimes be a little confusing and daunting. However, with a little detective work, it can be done!
null
Did you know that over 80% of England and Wales is now registered and large parts of that land that aren't are most likely owned by the Crown, the aristocracy, or the Church? Why wouldn't it be registered though? Well, it's because it's never been sold.
You can actually check who owns a property and its' general boundary quite simply by going to HM Land Registry and for a few pounds you can find out not only who owns the property but what land they own adjacent too. This, however, doesn't give you contact details, only a name.
So where do you start? Well, it could depend on where the land is. If it's a city or what you may believe to be a public park then start with the local authority council. Some councils today have a dedicated Film Office that you can liaise with, otherwise, things may get a little bit more tricky.
If you believe it's council-owned
If you are planning on filming in publicly owned spaces you will likely need permission from the city council to film there. There are a number of items they may need from you in the application and don't be surprised if they charge you a fee for a filming permit.
So make sure you have:
Your Permissions (A2 CofC/Operational Authorisation if required)
Public Liability Insurance
Risk Assessment
Method Statement
Check out our article on How to Fly in a City Without an OSC.
If you believe it's owned privately (someone like a farmer)
If you believe it's owned privately and you don't know who owns the land then there are a number of steps you can take.
Ask any neighbours or adjoining landowner(s) whether they know who the owner may be.
Ask any nearby local residents who may have lived in the area for a number of years. Local knowledge can really speed things up.
Ask in any locals shops, post office or pubs.
Search county or local authority records for any clues.
Check with the local authority to see if any planning applications have been submitted over the years.
Check the local electoral register.
If you can not find who owns the private land then you can not take off and land your drone on that land. You will be breaking the law.
If you believe it's owned privately by a company
This scenario is likely when you want to take off and land from someone's car park. If you don't know who owns the land then speak to the manager of the building. If it's a shared building (like a business park) then you may need to speak to the managers or administrators of the business park.
As a tip, you may find the people you speak to more accommodating if you say you'll get a photo/footage of their building(s) whilst you are there.
Make sure you cordon off your take off and landing area and don't fly over any buildings, vehicles and people that are not under your control.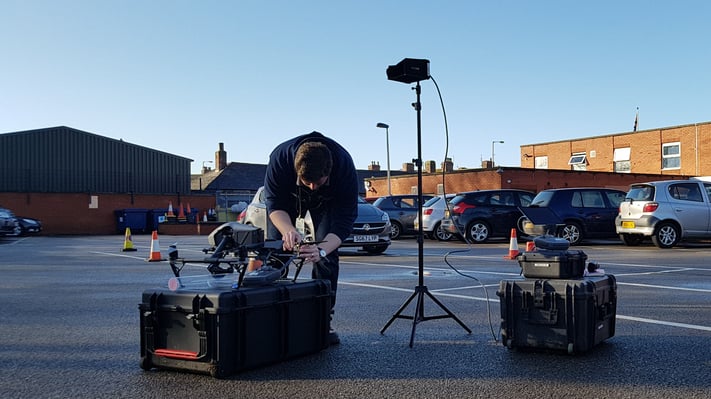 Don't forget, it is a legal requirement that you get the landowners permission to take off and land your drone otherwise you are breaking the law. As with most things in life, most of the work goes into the planning.
Good luck and fly safe!
If you'd like to speak to a member of the team regarding getting an Operational Authorisation by doing a GVC Course then please contact us on 0800 033 4400 or email hello@uavhub.com