As the drone industry continues to adapt and evolve, it's becoming more apparent that there will not only be a wider requirement for people holding a PfCO but more specifically for people having their 7 - 20 kg permissions to fly heavy lift drones. Drones that fit into this weight category include the likes of the DJI Matrice 600, Freefly Systems Alta 8 and the Intuitive Aerigon.
Heavy lift pilots are required to fly drones that can lift RED Cinema Cameras and Arri Alexa Minis, but they are also going to be a necessity for larger scale industrial inspections.
Over the last 12 months, we have partnered with an American company that specialises in wind turbine inspections, both on and offshore. Their equipment is based on a Freefly Alta 6 with a customised set of cameras and sensors which are entirely automated to inspect wind turbines, with a pre-set database of the different types and models across the globe.
Aerial Motion Pictures was chosen as their partner company in the UK because of our reputation for safety and our expertise in the field of heavy lift drone operations.
Read more about our wind turbine inspection journey here.
https://blog.flyicarus.co.uk/offshore-wind-turbine-inspections-with-a-drone
As the industry further adopts this technology, there is going to be a demand for more heavy lift pilots, both freelance and contracted by the larger corporations. So now is the best time to get ahead of the pack and root yourself in the industry as a heavy lift pilot!
Aerial Motion Pictures is one of the few experts in this field of training and operations in the UK, so we'll take you through how you can become qualified.
Holders of under 7 kg PfCO
If you already have a Permission for Commercial Operation (PfCO) for under 7 kg aircraft, then you are already part of the way there. All's that is required for you to get your permissions is to purchase an aircraft that is over 7 kg (or becomes over 7 kg with batteries and camera) and take a new flight test.
Once you have completed your flight test with a heavy lift aircraft, you can then apply for an amendment to your PfCO for you to get your 7 - 20 kg permissions. As per usual, you need to make sure that you fly and log at least 2 hours of flying every month and submit the evidence when it comes around to your renewal.
With heavy lift aircraft, it's good to keep practising as they can be a bit more tricky to pilot than the smaller aircraft.
We offer heavy-lift flight training for those that are new to flying drones over 7kg to prepare you for your flight test. This costs £240 for 2 hours 1-1 tuition with a qualified heavy lift drone pilot.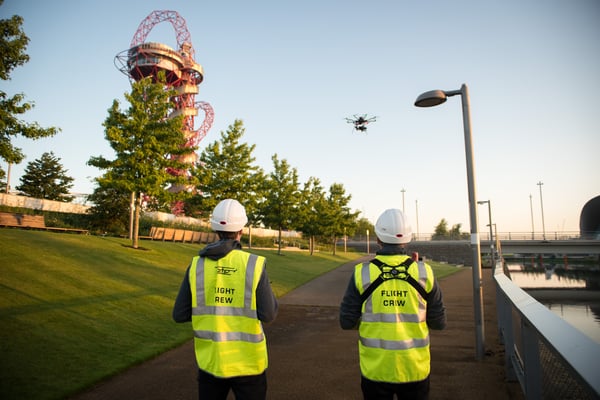 New to Drones
If you don't hold a PfCO but would like to jump head first into heavy lift operations, you will need to attend a Drone training course with an NQE such as ourselves. The process runs the same as it would if you were to be flying a drone under 7 kg, with the exception that you flight test (operational evaluation) will require you to operate your 7 -20 kg aircraft.
If you do your OE with a drone that is under 7kg, you will only receive the permission to fly 0 - 7 kg. If you take your OE with an aircraft over 7 kg, you will be granted permissions to fly both 0 - 7 kg and 7 - 20 kg.
Again, make sure you regularly practice flying and log all your flights.
Which heavy lift drone do I choose?
Choosing a heavy lift drone is purely down to you and what you would like to do. If you decide to get a Freefly Alta 6 or 8, it may be worth considering buying (or occasionally hiring) a MoVI Pro gimbal to mount a camera as the Alta series does not come with a data capturing device or gimbal.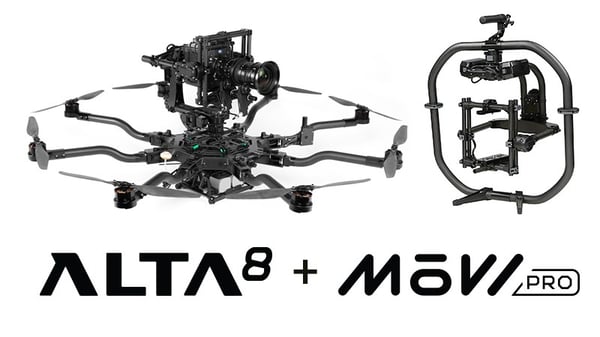 You also might want to consider looking at the DJI Matrice range. The Matrice 600 (M600) is DJI's new flying platform designed for professional aerial photography and industrial applications.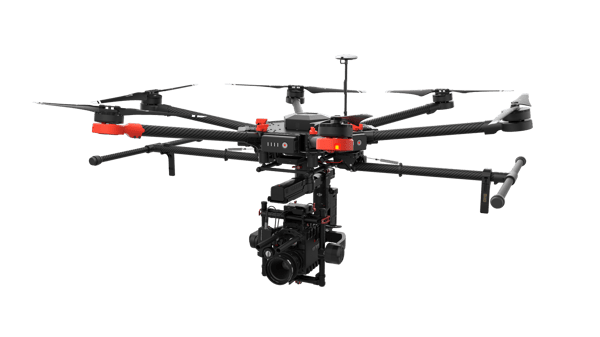 Don't take this as an exhaustive list of heavy lift drones; there are plenty on the market, you could even consider building your own if you have the expertise. However, it will have to stand up to rigorous testing and comply with all the laws in the UK.
Other things to consider
If you intend to pursue a career down the inspection route or even on film sets, then you might want to find a few extra courses that will help you stand out from the crowd and ensure you've ticked the right boxes.
First Aid at Work
Doing a first aid at work course should be of the highest priority - you are potentially working in dangerous environments, and you are most certainly handling hazardous machinery. Having knowledge and skills to deal with a situation when things go wrong could mean the difference between life, death or severe injury.
Sea Survival
Our pilots have had to take a sea survival course for any offshore work they undertake. It will almost be always asked if you have this before you can set foot on a boat to do any offshore inspections. Again, you never know if the worst could happen and it's always best to be prepared.
Fire Safety
If you're not already aware, the batteries used in most drones use Li-Po batteries (Lithium Polymer) which can, if not correctly handled explode or catch fire. Doing a fire safety course may provide you with another barrier of awareness when on set, construction sites or anywhere you may be flying in how to handle a situation should it arrive, either caused by your aircraft or other means.
Operating Safety Case (OSC)
If you want to fly closer to people, vessels vehicles and structures not under your control then you might want to consider applying to the CAA for an Operating Safety Case (OSC).
Fly ICARUS will soon be offering a classroom-based course that helps guide you through the requirements to obtain an OSC.
You can find more information about the OSC in the CAP 722.
Is it worth it?
Becoming a heavy lift drone pilot is a significant investment, but the long-term benefits could out-way the initial investment. This is for people who seriously want to make flying drones a career, or using drones as a way to enhance their companies capabilities.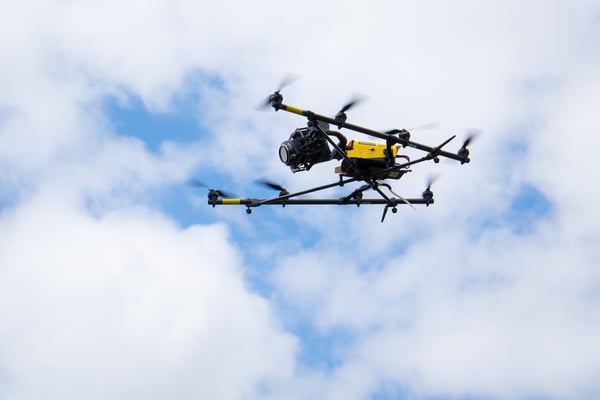 As of May 2018, there are only 300+ companies/individuals registered with a PfCO with permissions to fly 7-20kg aircraft. There are 4120 active PfCO holders in the UK which means that less than 10% of the drone pilots can operate Heavy Lift drones.
Information obtained from CAA website.
Conclusion
If you have seriously thought about becoming a heavy lift drone pilot, then give us a call today on 01491 526 700, and we'll see what we can do for you.
The drone market is exponentially growing, and even though some drones are getting smaller, some advanced technology will require being lifted by larger aircraft, and this is where you will sit. Get ahead of the game and join the exclusive few.