London, like most major cities, is classed as a congested area by the CAA and as such there are various permissions and considerations in order to operate a drone in London.
In case you weren't aware, Drones may also be referred to as Unmanned Aerial Vehicles (UAV), Small Unmanned Aircraft (SUA) or Unmanned Aerial Systems (UAS).
For further definition of a congested area see Article 3.22 of the CAP 722.
The 3 key components when you want to fly commercially are that you have:
Permission from the Civil Aviation Authority - a PfCO
Permission from the owner or manager of the land used for take-off and landing
Control over the area you intend to use the drone within. This includes any persons or vehicles in the area.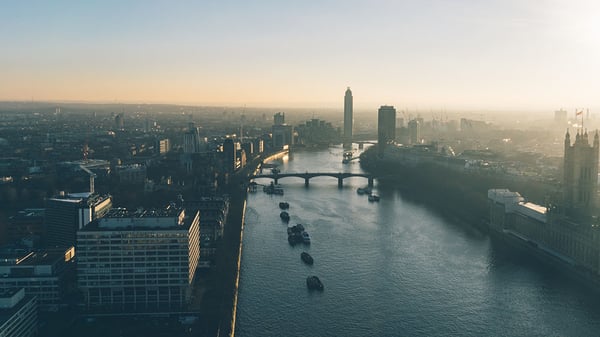 The Permission for Commercial Operation (PfCO)
All commercial drone pilots (now referred to as Remote Pilots) but be in possession of a Permission for Commercial Operation (PfCO) which is issued by the CAA. Any drone flight for commercial purposes will require this document and it will be the first item that most people will ask to see.
The CAA grants permission for multi-rotor and fixed-wing type, and will only grant permission for drones that do not exceed 20kg.
Land permission and area control
Productions using drones for filming purposes must ensure they are familiar with aircraft legislation and procedures that relate to aerial filming in London.
Due to the nature of the local airspace and the density of population, there are some important restrictions on the operation of aircraft in and around the capital.
The Air Navigation (Amendment) Order 2018, Article 95 state the distances which drones may be operated:
(1) The SUA operator must not cause or permit a small unmanned surveillance aircraft to be flown in any of the circumstances described in paragraph (2), and the remote pilot of a small unmanned surveillance aircraft must not fly it in any of those circumstances, except in accordance with a permission issued by the CAA.

(2) The circumstances referred to in paragraph (1) are -

(a) over or within 150 metres of any congested area;

(b) over or within 150 metres of an organised open-air assembly of more than 1,000 persons;

(c) within 50 metres of any vessel, vehicle or structure which is not under the control of the SUA operator or the remote pilot of the aircraft;
It's also worth noting that in CAP 722 Unmanned Aircraft System Operations in UK Airspace - Guidance, Article 3.27 under Standard Permissions states that:
In any circumstances or mass category, it must be noted that flights directly overhead persons and vehicles will not be allowed at any height in a congested area, or otherwise, unless these vehicles and persons are under the control of the person in charge of the aircraft.
A full closure of the road or area to be used will usually need to be in place before the drone can be used.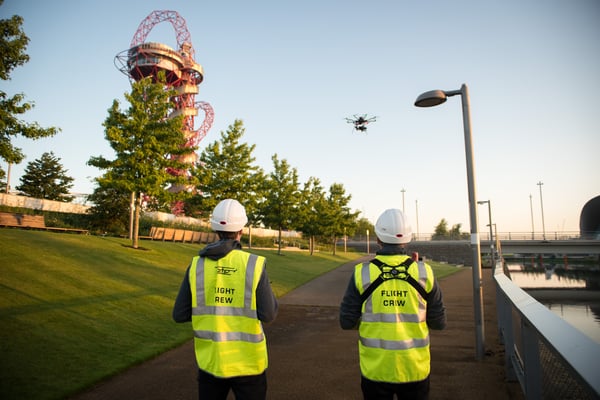 Drone operators should liaise with the organisation or individual responsible for the land required for take-off and landing to obtain permission.
They will also need to ensure that the land below the flight-path is either clear of people and vehicles by the requisite distances, or that access to the surface is restricted and any people and vehicles are under control of the operator. Drones should not be flown over people, vessels or vehicles that are not in control of the production.
For many public locations in London, including most streets and parks, the location contact will be the local Borough Film Service.
For other London locations contact the landowner or authority directly or speak to Film London on 020 7613 7683 who may be able to help.
Restricted airspace
In and around London there are a number of restricted areas that you cannot fly; these are detailed on your Permission for Commercial Operation.
The drone operator is responsible for obtaining permission to fly within any restricted airspace in London. Restricted areas include Hyde Park (EG R157), City of London (EG R158) and Isle of Dogs (EG R159). Restricted areas are marked on aviation charts and listed in the UK Aeronautical Information Package (UK AIP).
Flight within these areas is restricted for all types of aircraft, whether manned or unmanned. To obtain permission, the drone operator must apply for Enhanced Non-Standard Flight (ENSF) clearance via the NATS website.
ENSFs should be made with a minimum of 28 days notice. In all cases, applications submitted less than 7 days in advance of the flight will not be processed.
Privacy and copyright
The Information Commissioner's Office has issued guidelines regarding privacy and the use of drones for filming purposes.
There are various legal issues to consider when filming buildings in London and the UK. You need to be aware of visible trademarks and logos, defamation, passing off, light displays, iconic buildings and so on.
Insurance
You will need Public Liability cover of at least £5m when using drones to film in London. Under some circumstances, this may need to be increased. Most insurance companies will allow you to increase your Public Liability for an additional fee temporarily.
Further guidance
Further guidance can be found in the CAP 393 Air Navigation Order and the CAP 722 Unmanned Aircraft System Operations in UK Airspace - Guidance. If you are struggling, feel free to call us on 01491 526 700, and we'll see what we can do to help.