DJI have some 'Zones' that maintain safe airspace for all users and the general public when flying their aircraft. They are usually set up around airfields, stadiums and other popular tourist attractions.
Some of these zones will be completely off-limits to all aircraft; however, some can be unlocked as long as you take full responsibility for the flight (which you should do for all flight operations).
These zones are listed below:
Restricted Zones - Red
Authorization Zones - Yellow
Warning Zones - Green
Enhanced Warning Zones - Green
You should always check before you go out to fly that your chosen area isn't in Restricted or Authorization Zones. You can do this by going to https://www.dji.com/flysafe/self-unlock
If you do find that you are going to fly in one of these Zones, there are two ways to unlock Authorization Zones (yellow).
Note: You can't unlock any of the restricted zones and your DJI aircraft will not fly in these areas.
Live Self-Unlocking
When connected to the Internet, DJI GO and DJI GO 4 will allow you to unlock Authorization Zones on-site when you take off inside of or fly into one. Unlocking lasts for 24 hours and requires just a few taps on the screen.
Scheduled Self-Unlocking
Users planning to fly in an Authorization Zone without an Internet connection can use the Online Flight Planner to schedule up to 30 simultaneous unlocking plans. Each unlocked zone will remain unlocked for three days.
This is particularly useful if you are due to take your practical flight test (Operational Evaluation) as you can never guarantee that you will get an excellent 3G/4G signal on location.
Unlocking an Authorization Zone requires a DJI user account verified with a credit card, debit card, or mobile phone number.
Follow the steps below to unlock you aircraft:
Choose your aircraft from the dropdown
Select the location
Input your Flight Controller Serial Number

Found at DJI GO > General Settings > About

Choose date(s) for unlocking
Click submit
Download license using DJI GO

Select Camera View
Select General Settings
Select Unlocking List in the DJI GO or DJI GO 4 app to confirm your flight license

You are ready to fly with no internet connection
Afterwards, you can fly in the Authorization Zone without a network connection.
RAF Benson
It's worth noting, for people who take our Flight Test at Howbery Park in Benson, you will be flying in the Authorization Zone of RAF Benson. You will be just outside of the Benson Restricted Zone, so you can still unlock your aircraft which we advise doing in advance using the scheduled self-unlocking.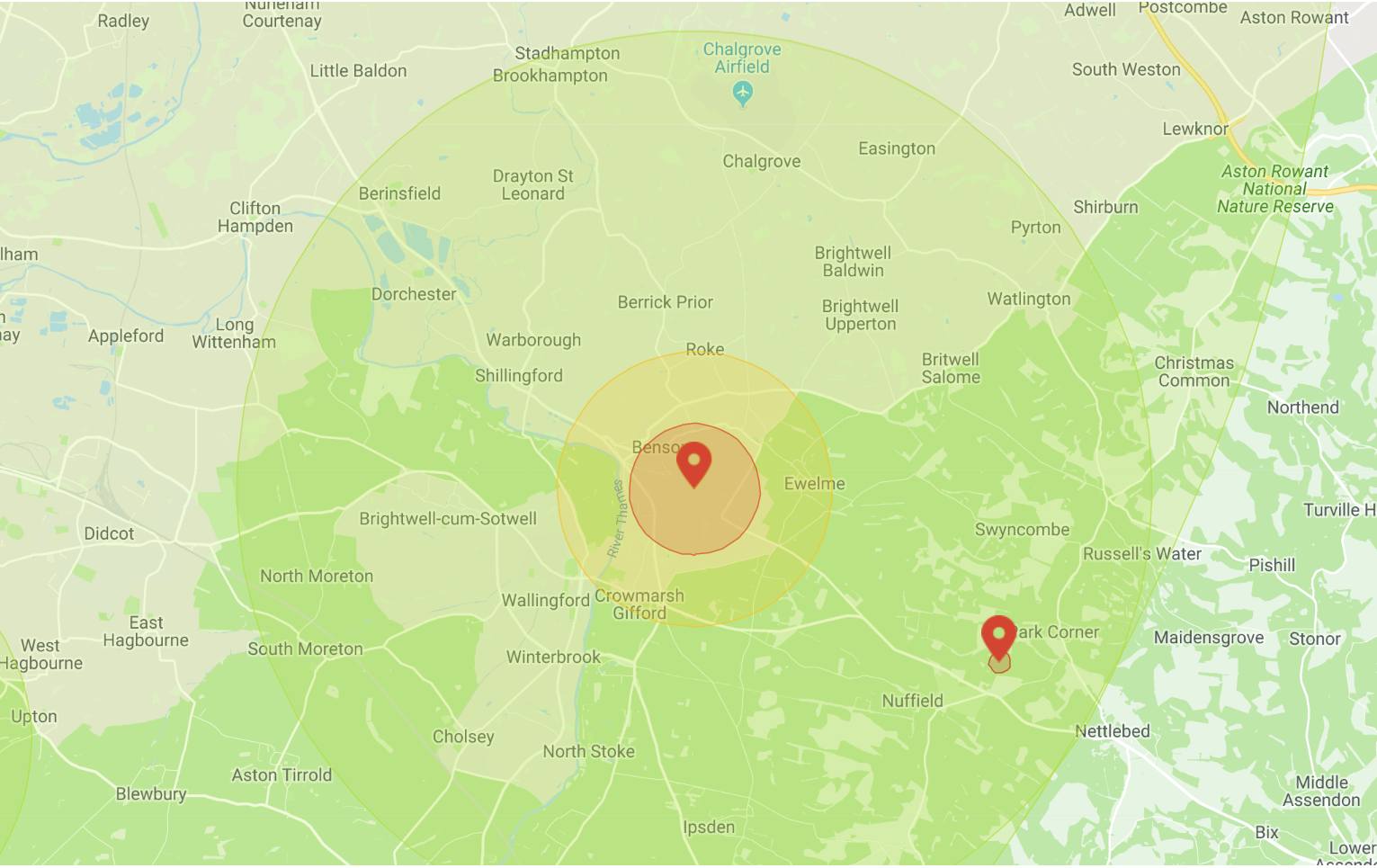 Conclusion
Always check the DJI fly safe website when planning for your commercial tasks, as not to disappoint the client. If the area is a Yellow Authorization Zone you can schedule your aircraft to be unlocked in advance, however, if you are caught unawares whilst in the field, it is still possible to unlock your aircraft if you have a good internet connection.
This guide will only work for DJI aircraft, if you have an aircraft made by another manufacturer please check your instruction manual or the manufacturer website for more information.
If you want to learn to fly your drone commercially, why note check out this blog?
Why Do You Need a Drone License?