By popular demand, we're excited to announce the launch of the ICARUS 'Live Lounge' sessions... ONLY for ICARUS Students; you have the opportunity to join ICARUS Founder Matt Williams ( Mr MPW ) in the exclusive 'ICARUS Live Lounge' sessions, the first of which is coming in just a few weeks!
Matt will be hosting the first of these 4 weekly, exclusive, live webinar sessions on the 28th February at 1930. The sessions will aim to cover and answer as many questions we can, posed BY YOU, in the time available... The full session will then be exclusively available to 'ICARUS Pilots Lounge' members for an additional 48 hours after the event closes.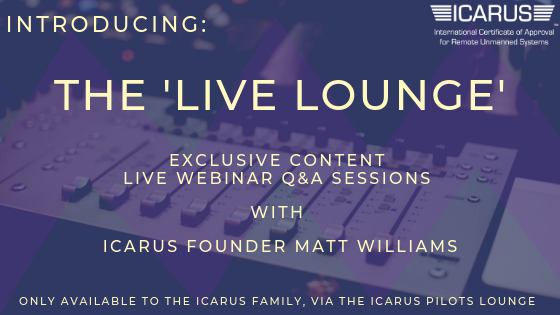 For those ICARUS Students who have already joined the ICARUS Pilots Lounge, you will see that there is a new section in there where you can pose your questions to the team. We'll then collate the requests, get the information together and present the answers to you at the event. Any we don't get round to at the time, we'll either roll-over to the next session or answer on the upcoming vlog... Stay tuned! ;)
If you're eligible for a place in the ICARUS Pilots Lounge, security is still open and all you have to do is visit the link below and register for an account. It is completely free and open to all ICARUS Candidates past, present and future...
https://forum.flyicarus.co.uk/
Click on 'Create new account' and complete the details... Please be aware, that users can currently create an account themselves but we need to manually verify each one against our database, so please bare with us as we check each user's account details and add you to the forum... If you've used a new or different email address than you used to undertake your training, we'll message you and ask you for verification before allowing you through security.
This is in order to keep the community private and secure for us all! :)
So, proceed through security, add your questions and we look forward to seeing you in the lounge!
Blue Skies,
Matt