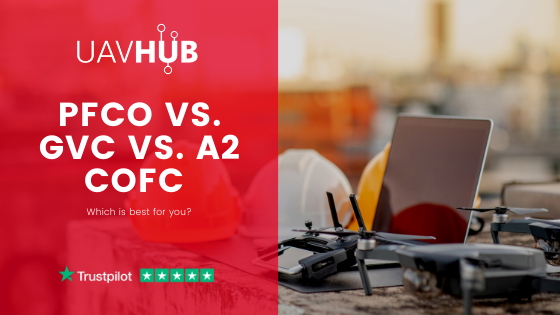 As most people are now aware, the regulations controlling commercial drone operations in the United Kingdom are changing on 31st December 2020. UAVHUB have made every effort to keep the community informed with regard to all of the upcoming changes via our YouTube channel - Mr.MPW.
[This article has been updated on 22.06.2020 to reflect the delay to the implementation of the EU UAS Regulation package to 31st December 2020]
The UK is the first to adopt the new EASA regulations which most European countries will conform to in the near future. The decision to adopt these regulations was taken before the UK left the European Union, however it is still widely considered to be a positive move forward because operating in EU countries should be a lot easier once most European countries are operating under the same regulations. In this article I intend to clarify some important information which is still being misunderstood and causing confusion in the drone operators' community.
People have become accustomed to the PfCO (Permission for Commercial Operations) which is a permission issued by the Civil Aviation Authority (CAA) and required by anyone wanting to operate drones for commercial gain inside the UK. This is still the only legal way to operate commercially in the UK until 30th December 2020. After that date it will no longer be a legal requirement to have a permission to fly commercially, however operators will be very limited in where they can fly at all without a permission.
The EASA regulations are written with the main focus on the risks involved in drone flying operations. When you understand this fundamental shift in focus, it becomes clear that additional permissions will be needed for drone enthusiasts and operators to be able to operate safely anywhere near uninvolved people.
Under the new regulations, there are two new qualifications which will offer opportunities to fly different classes of aircraft, in different environments. These two qualifications are the GVC (General VLOS Certificate) and the A2 CofC (A2 Certificate of Competency).
What is the GVC
The GVC is the equivalent of the existing PfCO training and offers exactly the same permissions using any aircraft which has a maximum takeoff mass (MTOM) of less than 25kg. The GVC is awarded by UAVHUB and then you apply for an Operational Authorisation which is issued by the CAA and will require yearly renewal and an up to date operations manual - this has always been a requirement for PfCO holders.
You should consider joining our HUBSUB subscription service to be sure that your manual is always up to date! The GVC will also offer the option of additional 'bolt-on' permissions such as Extended Visual Line Of Sight (EVLOS) in the future - these have not yet been made available by the CAA.
What is the A2 CofC
The A2 CofC is designed to be most accommodating for operators who fly relatively slow-flying and light weight aircraft, the combination of which result in intrinsically low risk operations. The A2 CofC does allow for heavier and larger aircraft to be flown, but these aircraft are restricted to extended separation distances from uninvolved people. This permission will be issued based on the successful completion of an A2 CofC training course presented by a Recognised Assessment Entity (RAE) such as UAVHUB.
UAVHUB was the first company to be awarded RAE statusin February 2020. There is no need for an operations manual or a submission to be made to the CAA for this permission - permission holders will be able to fly under this permission immediately after receiving their certificates from 31 December 2020 onwards.
Existing or 'legacy' aircraft as they have been designated, will be allowed to fly in transitional categories according to their weight for two years during a transitional phase. After this time, all legacy aircraft will fall into the A3 category and will be restricted by the A3 category regulations. A new generation of certified aircraft will allow the full benefit of this permission to be fully exploited as soon as they become available.
We have developed a table to help clarify the classifications of aircraft. This table provides guidance with regard to the restrictions for different aircraft classes after the new regulations become active on 31 December 2020. Operators with an A2 CofC and a C2 Certified aircraft will be able to fly as close as five meters from uninvolved people in a safe environment! This is an incredible opportunity for some operators to be allowed to undertake flights that they would previously not have been able to consider doing. Remember though, the flights will still need to be carried out safely with the necessary planning and risk assessment - all of which will be taught in the A2 CofC course presented by UAVHUB.
How do the new drone regulations affect the PfCO
There is also good news for existing PfCO holders. The PfCO will remain a valid permission provided it is renewed and never allowed to lapse. It is vitally important that you do not let your PfCO lapse! If you do, you will then be forced to start again with a GVC course and a new application with the CAA. After 30 December 2020, PfCO renewals will be returned as an 'Operating Authorisition with standard permissions'.
There are very few limitations for these operators, however they will not be allowed to apply for the bolt-on permissons mentioned earlier in this article. They will also not be able to be added as pilots onto another operators Operational Authorisation with a GVC.
There will be an option to 'upgrade' from A PfCO to a GVC with a cross-over course presented by UAVHUB if for example you feel that you will have a marketing advantage with the 'latest' permission, or you want to work as a qualified pilot for a company who have an Operational Authorisation with a GVC. We have a video on our YouTube channel (Mr.MPW) which outlines this in a little more detail. Click here to watch that video.
Conclusion
This article should clear up some uncertainty for people who are confused by all of the options available to them. Ultimately, it is for you to decide which qualification best suits your planned operations or business model, but the team at UAVHUB are always ready to assist if you still feel you need further guidance in deciding which drone training course is right for you.
If you'd like to speak to a member of the team please call 0800 033 4400 or email hello@uavhub.com.
Frequently Asked Questions
What is the best drone course?
The best drone course will depend on what drone you have and what you want to do with it. Currently if you fly a drone under 500g like a DJI Mavic Mini then the A2 CofC drone course is your best choice. If you fly heavier drones such as a DJI Phantom 4 or a DJI Mavic 2 then the GVC Drone Course may be the best course for you.
Can you hold a PfCO and a GVC at the same time?
Technically no. There is no benefit to holding an Operational Authorisation (from doing a GVC course) and holding a PfCO (after 31st December 2020) because the permissions you are granted as part of doing your GVC Course will be similar, and in some cases better than the PfCO because you can do 'bolt-on' modules to get EVLOS and BVLOS.
Can you hold a GVC and an A2 CofC at the same time?
Yes. You can hold an Opertional Authorisation with permissions granted from doing a GVC Drone Course and hold an A2 CofC. You will need to be clear under which permission and/or certificate you intend to use for your flight with your drone. The A2 CofC is valid for 5 years and doesn't need to be annually renewed with the CAA, whereas the Operational Authorisation needs to be renewed every year and you need to maintain an Operations Manual.