It's been months in the pipeline, and after the false start event that got postponed we're finally able to spill the beans on DJI's new Mavic 2 Pro and Zoom.
DJI quite cleverly called the event 'See the bigger picture' after revealing 2 iterations of it's DJI Mavic. The Mavic 2 Pro has a 1 inch sensor to match the DJI Phantom 4, the other is the DJI Mavic 2 Zoom, which as it says, has zoom capability amongst other very exciting features.
Mavic 2 Pro - £1299
Made in Sweden, Hasselblad cameras are renowned for their iconic ergonomic design, uncompromising image quality, and Swedish craftsmanship. Since 1941, Hasselblad cameras have captured some of the world's most iconic images – including the first moon landing.

Co-engineered in partnership with Hasselblad, the Mavic 2 Pro comes equipped with the all-new Hasselblad L1D-20c camera. The L1D-20c possesses Hasselblad's unique Hasselblad Natural Colour Solution (HNCS) technology, helping users to capture gorgeous 20-megapixel aerial shots in stunning color detail.
Hasselblad L1D-20c Camera

20 MP 1" CMOS Sensor

Adjustable Aperture, f/2.8 – f/11

10-bit Dlog-M

10-bit HDR Video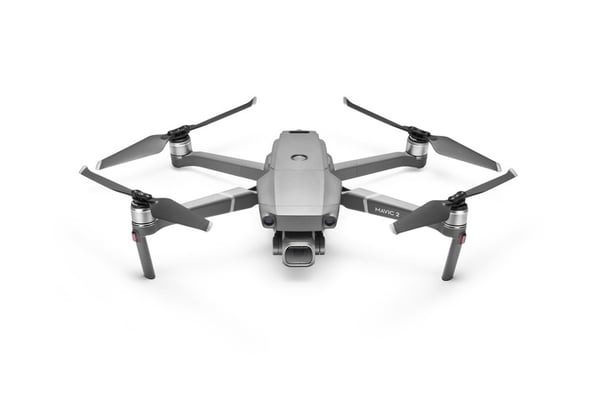 1-inch CMOS Sensor
The brand new 1-inch CMOS sensor has an active sensing area four times more effective than the original Mavic Pro. The large sensor also means better performance in low-light environments with a more extensive ISO range, max ISO lifted from 3200 to 12800, giving you much more flexibility in low light conditions like at sunset.
10-bit Dlog-M Color Profile
The Mavic 2 Pro supports a 10-bit Dlog-M color profile that yields higher dynamic range for more flexibility in the grading room. The system records over 1 billion colours (compared to the 16 million colors from traditional 8-bit color coding technologies) and retains more in-depth details in both highlights and shadows.
Great news for people who like to edit their videos!
HDR Video
With 4K 10-bit HDR support, the Mavic 2 Pro can be plugged into a 4K TV with HLG and will immediately play back footage with the right colour tones. The brighter highlights and increased contrast are what make HDR video so appealing for content creators.
Mavic 2 Zoom - £1099
The DJI Mavic 2 Zoom is powered by a 1/2.3-inch 12-megapixel sensor with up to 4x zoom, including a 2x optical zoom (24–48 mm).
Capture everything from wide angle to mid-range shots for even more creative options.
24-48 mm Optical Zoom Camera
12 MP 1/2.3" CMOS Sensor
48 MP Super Resolution Photo
4x Lossless Zoom FHD Video
Dolly Zoom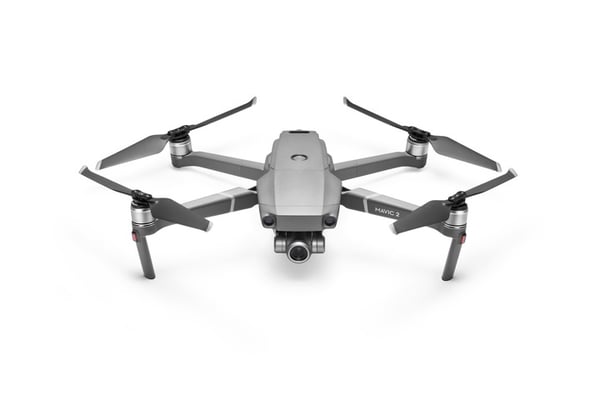 More Expressive Mid-Range Shots
Compared to a 24mm wide angle lens, the 48mm telephoto lens compresses your perspective, enhancing the parallax effect for a classic cinematic look. Now a whole new world of aerial photography is open to explore with even more epic, cinematic shots.
A Worry-Free Way to Find a View
When shooting Full HD video, 4x lossless zoom (including 2x optical zoom) gives you a closer view of faraway subjects, making unique scenes more accessible to capture at a distance. This option also helps you maintain a safer distance from buildings, vehicles, animals, and people.
Quick and Accurate Focus
Hybrid autofocus on the Mavic 2 Zoom combines phase and contrast detection for higher focus accuracy with an increased focus speed of up to 40% more than before. The autofocus tracking system makes subjects appear clear and sharp when zooming in and out.
Zoom During Flight
Dolly Zoom is a new QuickShot for the Mavic 2 Zoom, offering an otherworldly perspective in a fully-integrated drone. Dolly Zoom automatically adjusts focus when flying, adding an intense, warping visual effect to your video. When flying manually, you can also set proper focus speed values for even more creative shot options.
Super Resolution Photos
The Mavic 2 Zoom also has a brand new Super Resolution feature – an asset when capturing the vivid details your landscape photography deserves. When taking a picture with a 24 mm equivalent field-of-view, the camera will capture and patch nine photos with its telephoto lens, resulting in a 48-megapixel super resolution photo. Compared to ordinary panoramas, the super resolution photos retain the original look of the shooting targets with a more accurate composition.
Verdict
Although the features aren't really a surprise for most people that have been keeping an eager eye on the release of the DJI Mavic 2, however, we're very happy, especially with the Hasselblad camera, there's no other consumer drone out there that can compete on the quality of the camera.
If you get a DJI Mavic 2 and want to make money from it, don't forget that you'll need a PfCO which is what we are here for! Our ICARUS course is highly regarded in the industry and you'll get top of the class tuition that's incomparable.
Contact us today and book your PfCO course (before or after you've bought a Mavic 2!)