After weeks and months of speculation and anticipation, the long-awaited DJI Mavic Mini has landed and it's the next best thing since the Mavic 2!
DJI has very cleverly designed an aircraft that weighs no more than 249g, which negates the CAA requirement to affix an Operator Number to the aircraft.
The small, light Mavic Mini sits comfortably into the palm of your hand and folds away into the tiniest of packages. With a maximum flight time of upto 30 minutes on one battery, this aircraft is the ultimate travel companion for capturing shots on the fly (pun intended).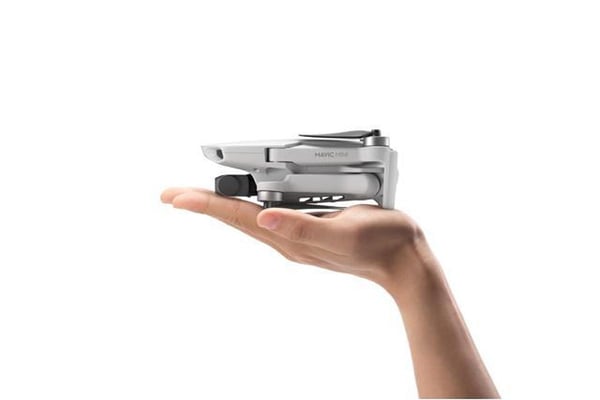 What's great about the DJI Mavic Mini?
249g Weight
The fact that the aircraft comes under 250g is a big wing for DJI as this negates the requirement to register in the aircraft in some countries, like the United Kingdom from 30 November 2019.
30-Minute Flight Time
A 30 minute flight time is incredible for such a small drone, when you consider the Spark had a maximum flight time of 16 minutes.
How long does it take to charge?
Using the DJI 18W USB charger, a battery can be fully charged in 90 minutes.
2.7K Filming Resolution
The size of the aircraft is very impressive, and the fact it packs a camera that can capture video resolutions of up-to 2.7K is great for travellers and bloggers who want equiment that doesn't take up much space in a backback.
What camera does Mavic Mini have?
Mavic Mini has a 12MP 1/2.3-inch CMOS sensor (24mm-equivalent lens with an ISO range of 100-3200).
Does Mavic Mini support intelligent shooting modes?
Mavic Mini and the DJI Fly app support multiple QuickShots to make it easier to shoot cinematic video with just a few taps. You can also set intervals on the camera for the ultimate selfie.
What video resolution does Mavic Mini support?
You can shoot up to 2.7K/30fps or 1080p/60fps.
New DJI Fly app
DJI has released a brand new app called DJI Fly which is currently only compatible with the DJI Mavic Mini.
Can I use DJI GO?
No, Mavic Mini only works with the new DJI Fly app.
How do I update Mavic Mini's firmware?
When you connect to DJI Fly, the app will automatically check the current firmware and alert you if an update is available.
Can I edit Mavic Mini footage within the app?
With DJI Fly, you can easily edit clips and create videos to be shared across your social media channels in just a couple of taps.
Which version do i buy?
The DJI Mavic Mini has been released as 2 versions, an aircraft only version and a Fly More More Bundle. The Aircraft only version comes with one battery so we would highly recommend that you get the Fly More Bundle which comes with a charging hub, 2 extra batteries, travel case and propellor guards (although the propller guards may push the aircraft weight over 250g...We'll have to check this out!).
How much is the DJI Mavic Mini?
The DJI Mavic Mini is £369 for aircraft only and £459 for the DJI Mavic Mini Fly More Bundle.
When can I buy the DJI Mavic Mini?
You can pre-order the DJI Mavic Mini NOW from Fly ICARUS for as little as £100. Once stock has arrived in the UK, the aircraft shall be shipped on a first-come-first-served basis.
To pre-order yours today click here and we'll let you know when stock has arrived and your aircraft is due to ship.
Don't forget! If you purchase ANY aircraft from UAVHUB (including the DJI Mavic Mini) you can get a FREE Operations Manual Update if you are a holder of a PfCO or Operational Authorisation / GVC.
If you have any questions regarding any DJI Drones or Drone Course please contact us on 0800 033 4400 or email hello@uavhub.com