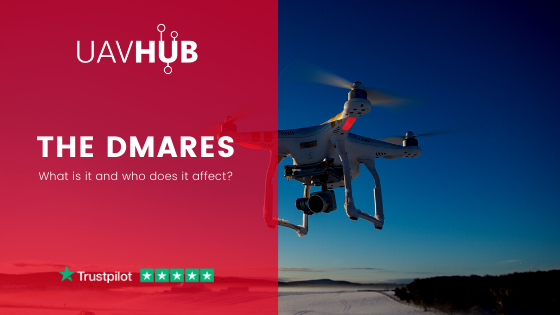 DMARES - Drone and Model Aircraft Registration and Education Service. It's a mouth full and you have to wonder if the UK Civil Aviation Authority who presented this scheme to the aeromodelling and drone operator communities in late 2019 went out of their way to complicate the name intentionally? That said, it does tell a story and once you're familiar with it and used to saying 'DMARES' the abbreviation rolls off the tongue easily enough. So who needs to know about this service and who does it affect? Well, the answer is, just about everyone who owns and flies a model aircraft or drone inside the United Kingdom. There are a few exceptions for people flying some very small aircraft which border on being classified as toys, and of course for models which do fall into the classification of being considered near harmless toys.
The intended purpose of the DMARES is to educate modellers and drone operators of the basic rules and regulations which govern the safe flying of model aircraft and drones. Through the process, the CAA is also gathering data concerning the demographic and volume of operators and hobbyists who are actively flying inside the UK. As of 30 November 2019, it became law to have to register using this service on the CAA's website for anyone flying a drone, unmanned aircraft or model aircraft weighing between 250g and 20kg.
The service is presented in the form of some very basic online learning information called the "The drone and model aircraft code" which outlines the regulations, followed by a 20 question multiple-choice test. As part of the process operators who are responsible for the aircraft are required to register for an "Operator ID" as well as a "Flyer ID" for each remote pilot. There is a nominal fee of £9 for this registration process and the registration is valid for a year and requires yearly renewal. An additional requirement once you've navigated your way through the process is to label all of your aircraft with the operator's unique Operator ID.
The introduction of this registration system sparked a lot of debate and considerable resistance about many different issues, but to no avail - the system went live in November 2019 and registering is now a legal requirement. Matt Williams from UAVHUB also voiced his opinion numerous times on his YouTube channel (Mr MPW) ahead of the launch of the DMARES, but has since encouraged a positive drive for operators to conform and continue to operate legally.
Conclusion
Ultimately, we all want to be able to continue operating drones and model aircraft legally and safely. For this to be possible, we need the services of the CAA. The professional drone and aeromodelling communities are also important to the CAA and therefore it seems logical that we should trust that they have a mutually beneficial plan of action which they are rolling out to future proof our operations. We're DAMRES legal, are you?
Please note: If you wish to do an A2 CofC Drone Course or a GVC Drone Course you will firstly need to have done the DMARES.
If you'd like more information about our courses then please get in touch with the team at UAVHUB by calling 0800 033 4400 or email hello@uavhub.com
Frequently Asked Questions
Do I have to register all of my drones individually?
No, you have to register for an operator ID and for a flyer ID, then simply mark all of your drones with your Operator ID.
How much does it cost to register a drone in the UK?
There is no charge to register drones in the UK, however there is a £9 fee to register as an operator before you can fly your drone legally.
Does my Operator ID label need to be visibly displayed outside my drone?
No, the label can be inside an easily removable hatch or cover.
Do I need to renew my Operator ID yearly?
Yes. The Operator ID requires yearly renewal however the Flyer ID has a 3 year validity period.
I have a child who flies drones and model aircraft with me, do I need to register my child as an Operator?
No, you can take responsibility by allowing your child to fly drones marked with your Operator ID, but you must register your child as a flyer and get a Flyer ID for him/her.