First off, I'd just like to clarify if you are looking to get some training on how to fly your drone or you would want drone training that leads through to getting your Permission for Commercial Operation.
One is not exclusive to the other, so let's take a look at what is available out there!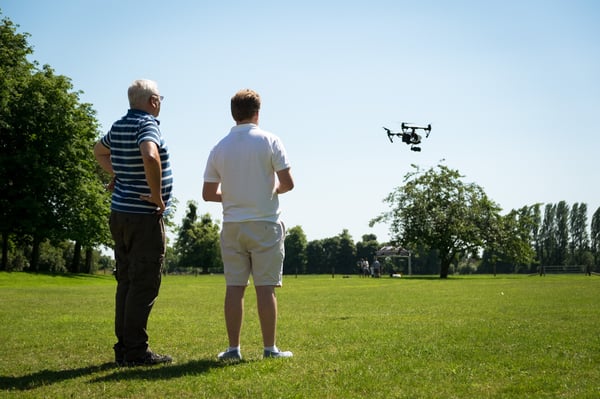 I want drone training to get my 'license.'
A lot of people mistakenly believe that to fly your UAV you need a 'license' however there is no such thing as a drone license, what you get after doing a course with a Nationally Qualified Entity (NQE) like ourselves at Aerial Motion Pictures is a recommendation to the CAA to get your Permission for Commercial Operation.
So it's not a license, it's just the CAA permitting you to use for UAV for commercial purposes
Hopefully, I've cleared that up a little!
If not check out this blog.
Why do you need a drone license?
So, if you want to get your Permission for Commercial Operation, you will have to attend a course run by an NQE. These run all year round, and our classes tend to be every 1-2 weeks.
This (generally) consists of 2 days of classroom-based teaching and won't involve any practical training. At the end of the learning there is a multiple-choice examination, and then you have to do a flight test with your UAV to prove that you are a competent flyer and understand how to plan for commercial operations effectively.
If you are looking at becoming a commercially qualified drone pilot then follow the link below.
https://www.flyicarus.co.uk/drone-training-course
I want to do some training with my drone to fly better
Ok, so if you're going to get some practical training with your drone, there are usually two ways of going about it.
Beginners Flight Training (or pre-flight training)
Advanced Flight Training
Beginners Flight Training
With Aerial Motion Pictures, our beginners' flight training is designed to be for people who have only just bought their drone and don't want to take it on its maiden voyage alone. We'll take you through getting it out of the box and set-up; we'll take you through the app, and show you how to fly and handle the aircraft.
Advanced Flight Training
For the advanced flight training, we'll assume that you have already had some experience with your UAV, but you want some confidence flying. Maybe you've not turned off the GPS and want to know how to operate in full manual or ATTI mode.
Do note however, some smaller aircraft like the DJI Mavic wont allow you to fly in manual mode.
This will be for people who again, want that extra guidance from an experienced pilot to assure them that they are flying correctly, and if they are soon to be taking their flight test, they'll get the chance to be shown all the required manoeuvres.
Heavy Lift UAV Training
If you purchase an aircraft that fits into the 7-20 kg bracket you are now flying what is considered heavy lift UAVs. These kinds of drones have 6 or more propellers and don't usually have an inbuilt camera and can be used for carrying specialist camera or data capture devices.
If you have never flown one of these kinds of aircraft before it may be worth getting some one-to-one tuition with an experienced heavy lift operator to make sure that you have the UAV set up correctly and know how to fly it safely.
if you require any practical flight training for any level, visit our practical training page here.
https://www.flyicarus.co.uk/icarus-flight-training
Summary
So when looking for 'drone training' make sure you know if you are looking for a course that will lead you through to getting your PfCO it is with a fully qualified NQE like Aerial Motion Pictures ICARUS drone course, or if you are looking for some flying experience that you are getting the training with an operator who is experienced.
Aerial Motion Pictures provides both practical training and courses that lead through to Permission for Commercial Operation as a CAA recognised NQE and they also do practical flight training, giving you the ultimate holistic experience.
Fly safe!