Drone technology is fast evolving and has never before been available to so many people. There are a lot of factors contributing to the number of drone pilots increasing exponentially. Some obvious examples are lowering cost, the wide range of models available and the ease of operation given modern control systems.
While drones have become more reliable and more capable, they have also created new risks and the need for regulation and education of users has become paramount. A lot of resources have already been applied to the mammoth task of providing that education and regulation with varying degrees of success.
A new set of regulations are were implemented by the UK Civil Aviation Authority (CAA) on 31 December 2020 that affected a lot of people considering buying a drone, as well as current drone owners. In this article, I intend to share accurate information on five of the most important things you need to know about if you plan to own and operate a drone in the UK in 2021.
1. Drone Registration
It is easy to assume that if you buy a drone from a retailer and they don't make you aware of any registration requirement that is not necessary. However, nearly everyone who owns and operates a Drone in the UK are legally required to register as an operator and as a flyer with the UK CAA. The process is relatively simple and does not cost a lot of money.
In a nutshell, if your drone weighs more than 250g or has a camera on it and you are not a member of a model aircraft association which provides the registration, then you are required to register as an Operator with the Drone and Model Aircraft Registration and Education System (DMARES) using the CAA's online registration portal. This costs £9 and must be renewed every 12 months. You need to be 18 years of age to register as an operator and the Operator ID must be affixed to your drone.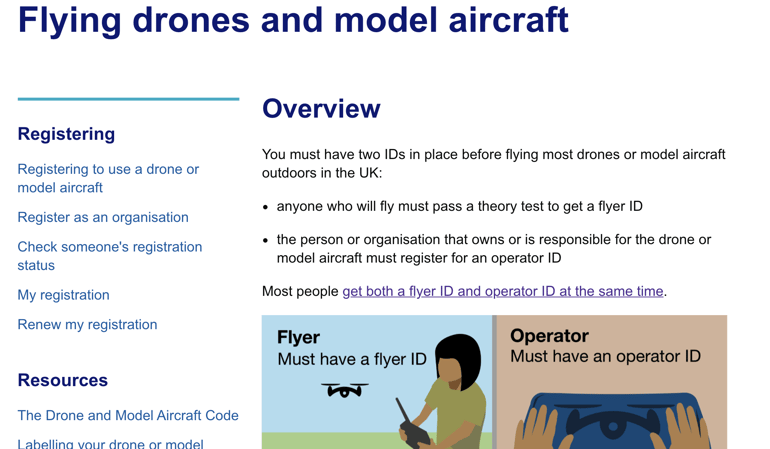 2. Flying legally
After having treated yourself to a marvel of modern technology and mastering the basics of flying, there is an obvious temptation to 'just take some wedding pictures for a friend' or 'film the kids riding their bikes in the park', but is this legal and what are the risks?
The quick answer is that it's unlikely to be entirely legal and the risk will be on you if the worst were to happen and something got damaged or worse, someone was injured! The Limiting factors in most cases would be the proximity of your drone to uninvolved people (especially depending on the size of the drone) as well as not having permission from the person in charge of the property.
As of 31 December 2020, there is no longer be a requirement for a qualification to use the drone for commercial gain (by selling the images, video or data), however, you may need some certificate or authorisation if you want to fly drones heavier than 250g in areas used for recreational, commercial, residential and industrial purposes.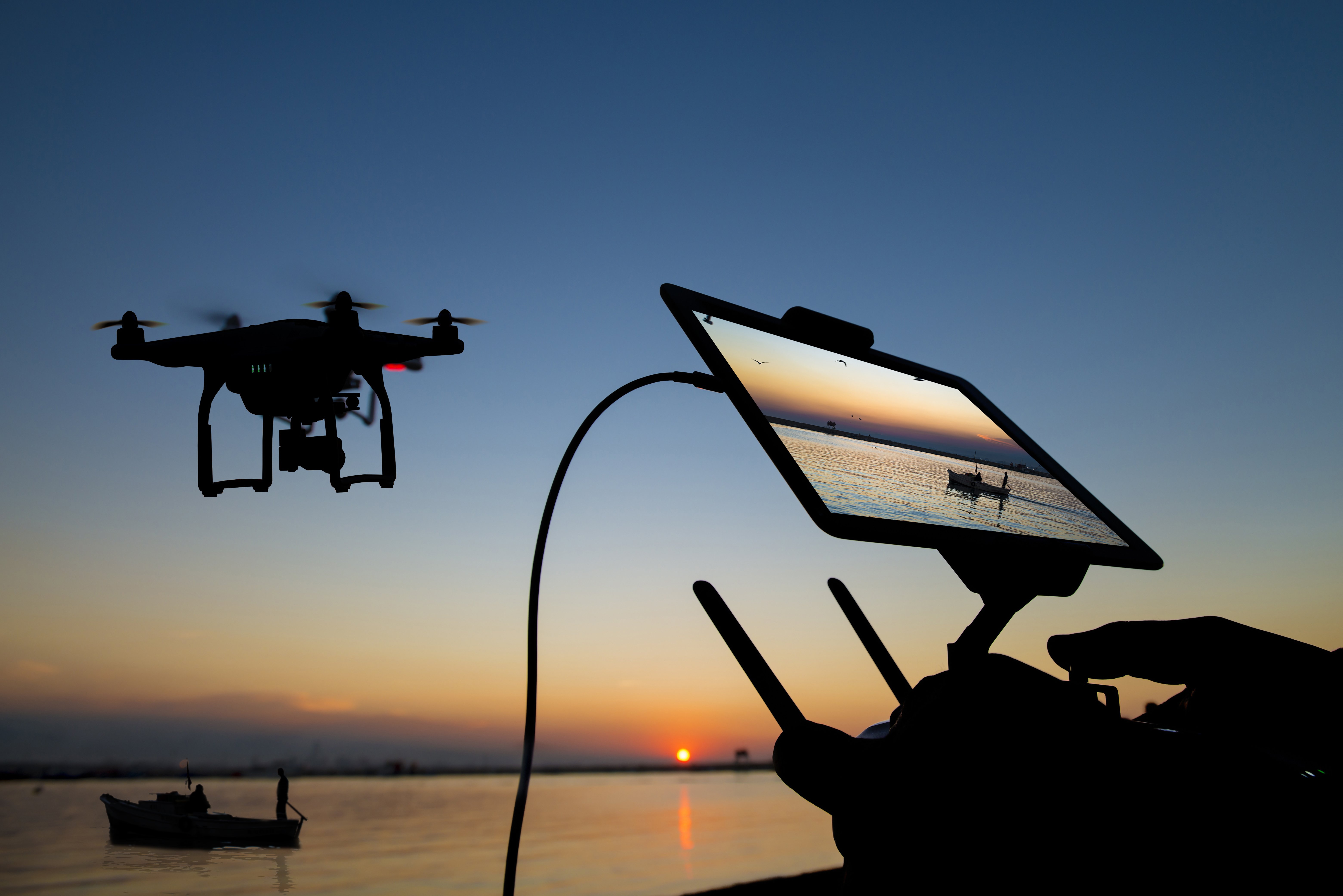 3. Drone Qualifications and CAA authorisation
So what are the options to reduce the limitations which are imposed on unqualified drone flyers? UAVHUB was the first Recognised Assessment Entity (RAE) who are now able to teach and test students for the two new qualifications which set the standard for the foreseeable future.
These two qualifications are the A2 CofC (A2 Certificate of Competency) and the GVC (General Visual Line of Sight Certificate).
The A2 CofC is best suited to people flying relatively small and lightweight drones. The GVC is ideal for people who have larger and heavier drones that they intend to fly closer to uninvolved people than they are allowed without a qualification and authorisation from the CAA.
The GVC is widely considered to be a 'more professional' qualification however both of these permissions will allow pilots to fly commercially within the limits of the qualification they choose. We have a blog outlining these two exciting new qualifications in more detail here.
4. Drone Insurance
As a recreational flyer, there is no legal requirement for operators to have insurance. However, it is important to remember that you are ultimately responsible for any harm caused by your drone.
This reality carries very serious implications. For example, if your drone distracts a driver and causes a traffic accident, you could be held liable for the repercussions of the entire incident - especially if you were not operating legally.
Even though there is not a legal requirement for a qualification to fly commercially, there is a legal requirement for insurance for any commercial flight (or any flight that is not for recreation or sport) - irrespective of where the flight takes place or what qualification the remote pilot holds.
For more information about insurance, contact the people over at Coverdrone who'll be able to help you out!

5. Safety
It is sad that this incredible technology has to be limited by regulations but it is very necessary for the future preservation of the technology and the industries making use of it. While most people understand this and suitably equip themselves with the knowledge and flying skills to fly safely and legally in their chosen environment, there are also people who disregard the rules and regulations.
To a certain extent, it is every drone pilots duty to help promote the idea of safe drone operations and encourage people who are unaware of the regulations to familiarise themselves and upskill accordingly.
It is also important to understand that the rules are there to protect us all as drone operators and we shouldn't be trying to figure out loopholes in them, but rather embracing them and using them to our advantage.
If you read up on flying drones safely within the regulations (as well as lots of other content including Human Factors!) then check out the CAA Document CAP 722: Unmanned Aircraft System Operations in UK Airspace - Guidance.
Conclusion
Flying drones safely and legally isn't quite as easy as it may seem at face value. It is however a fantastic hobby and an incredible tool for professional operators.
UAVHUB can help you become proficient and provide guidance that will help you become a better aviator. For anyone wanting to operate in anything more than a rural environment, flight training and a theory course are essential.
Over and above that, don't forget the value of good common sense and of course common courtesy towards uninvolved people!
Frequently Asked Questions
Do I need a license to make money from a drone in the UK?
You do not need a qualification to operate a drone commercially however there are limits to where you will be allowed to fly.
Do I need insurance for my drone?
If you are flying a drone commercially you are legally required to have commercial drone insurance. As a recreational flyer, insurance is not a legal requirement.
What drone licence is needed in the UK?
There is no drone license, but you may need a Flyer ID as a minimum and you may be required to hold an A2 CofC or the GVC if your drones are heavier or your flights are a higher risk to people.