Whilst we are patiently waiting for manufacturers (we're looking at your DJI!) to release a C1 or a C2 certified drone so we can take full advantage of the A2 Certificate of Competency from the 31st December 2020, we take a look at the overlooked ANAFI range which, as it happens, drops in below the crucial 500g.
[This article has been updated on 07.10.2020 to reflect the delay to the implementation of the EU UAS Regulation package to 31st December 2020. Article updated again 03.03.2021 to reflect the UK leaving EASA]
A1 Transitional Provision of the A2 CofC
The new drone regulation framework the CAA is adopting from the 31st December 2020 leaves open a 2-year window for legacy drones (drones that are currently on the market and not certified) to allow you to take advantage of (at least) some of the new benefits of the new certifications.
We'll take a look at the A1 Transitional Provision which is for legacy drones with a take-off weight of under 500g. Now straight away, most people go straight for the DJI Mavic Mini, which is a great little drone but isn't in any way suitable for professional use. With a meagre 12MP sensor and lack of manual controls for video, it's just a 'happy snapper'. What we need is something that you won't get laughed out of the park with.
Until 1st January 2023 you can fly any aircraft under 500g MTOM anywhere that is legal to do so as long as you do not intentionally fly over uninvolved people.
To fly these aircraft in the A1 subcategory you will need to complete the A2 CofC (Certificate of Competency) with an RAE such as UAVHUB.
The Parrot ANAFI
If we take a look at the Parrot ANAFI range, you'll find that all of the ANAFI branded drones come in under 500g, actually, they're well under 400g!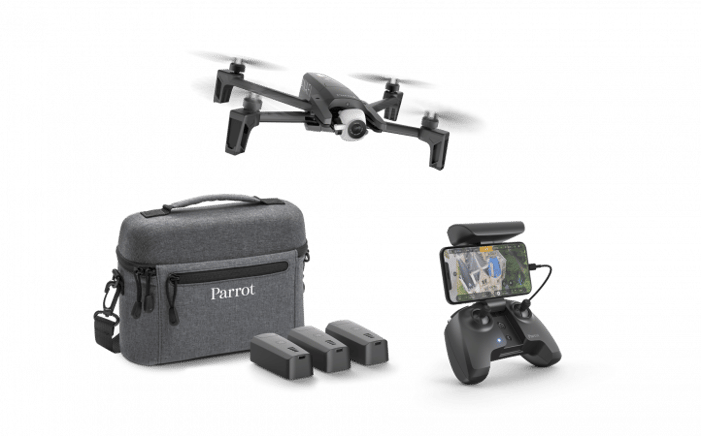 The ANAFI Work is capable of shooting up to 4K and 21MP still images. It has a 180° vertical orientation camera that allows you to easily capture images of potentially inaccessible areas (underside of structures such as bridges?).
It has a lossless zoom of 1.4x in 4K and 2.8x in HD (1080p), allowing you to get that little bit closer without losing quality in the image. It has a flight time of 25 minutes per battery and can be charged using the universal USB-C so you can easily charge on the go!
Looking for something with Thermal capabilities? Take a look at the Parrot ANAFI Thermal, as a great alternative to the DJI Mavic 2 Enterprise Dual, which again, comes in at 315g making it perfect for doing small thermal inspection work. The ANAFI Thermal has a dual sensor (Thermal FLIR® and RGB 4K HDR with 21MP Sony sensor).
This single, compact, lightweight and robust tool enables construction professionals to begin visual inspections and then switch to thermal inspection mode during the assignment.
The package is very simple to use and to fly.
What happens after 31st December 2022
After 31st December 2022, the Transitional Provision ends and you'll no longer be able to use any of the current ANAFI drones in the A1 Transitional Provision. Although this would require the potential purchase of a newly certified aircraft to operate under the same permissions previously, we'd like to point out that these permissions we're once only the dreams of operating under a very expensive Operating Safety Case (OSC) which has an application fee of £1700.
What do I have to do to get an A2 CofC?
The A2 CofC with UAVHUB costs £139 inc.VAT and lasts for 5 years with no yearly renewals (as is required with the PfCO and Operational Authorisation with a General Visual Line of Sight Certificate (GVC)).
You simply do a short theory course and take a 30 question examination. Prior to taking the examination, you have to self certify that you can fly a drone safely (click here for more information on self-certification).
During the COVID-19 outbreak, we are currently doing ALL of our drone courses online via virtual classrooms and examinations, however, you still get ALL of our highly reviewed E-Learning materials in advance.
Conclusion
The A2 CofC and the Parrot ANAFI range is the ultimate combination for professional operators wishing to operate within recreational, industrial, residential and commercial areas without the worry of flying far away from people as long as you don't intentionally overfly them. The transitional provision lasts for 2 years from 31st December 2020, after which you may need to change aircraft, but the A2 CofC permission continues as this lasts for 5 years.
Check out our Parrot ANAFI Work and Parrot ANAFI Thermal Business Bundles with an A2 CofC drone course.
If you'd like to learn more about the ANAFI range, get in touch with the team on 0800 033 4400 or email hello@uavhub.com.